A family tradition for over fifty years
Do you know the story of the Martel Group?
It was in 1965 that Raymond Martel, along with his brother Gilles, decided to go into business. At the time, he started selling sandwiches prepared by his mother and his wife Cécile on construction sites. This was followed by numerous relocations and acquisitions, and the expansion of his company's activities and sales territory to include all of Quebec, Ontario, and the Maritimes.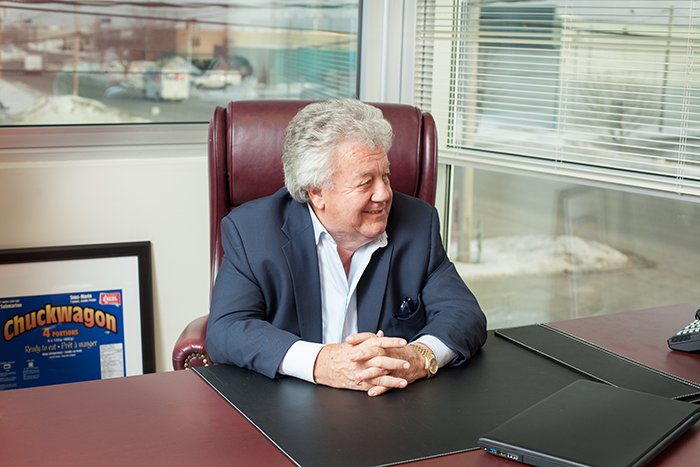 1965 to 1987
A roadside diner: Cantine Roulante Inc.
Raymond Martel was the manager of Macy's Restaurants in Montreal when he decided to start a business with his brother Gilles in 1965. In Saint-Romuald, near Quebec, they launched a "roadside diner" and sold products prepared in their family home by their mother to construction sites, factories, and other work locations. Two years later, they purchased additional trucks and built a 2,500 square foot warehouse, still in Saint-Romuald, operating under the name Cantine Roulante Inc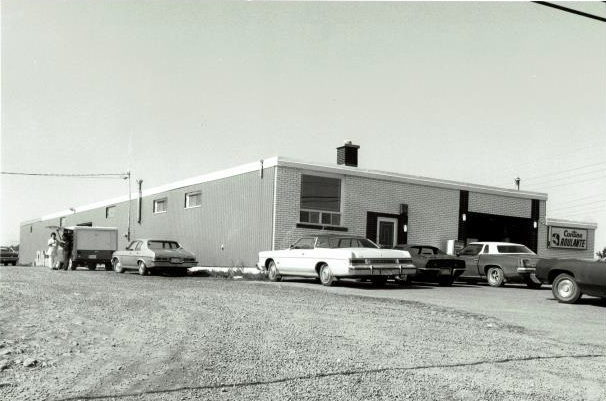 1972
Acquisitions and the establishment of Aliments Martel Inc.
Thus, after expanding into the Quebec market, in 1969, the company ventured into the Côte-Nord, Gaspésie, and Abitibi regions with vacuum-packed (controlled atmosphere) products under the name Distribution Sélect. Towards the end of the 1970s, Raymond Martel achieved a significant milestone by opening a distribution center in Montreal to tap into the metropolitan market. A year later, the owner shifted to an acquisition mode by purchasing several competitors successively. He also took the opportunity to build a factory in Vanier to cover both sides of the greater Quebec region. He added the identity of Cantine Kébécoise to that of Cantine Roulante and created the new corporate name, Aliments Martel Inc.
In 1972, Gilles Martel retired from the business, and Raymond Martel became the sole shareholder. Together with his wife Cécile, they faced the rapid growth of the company.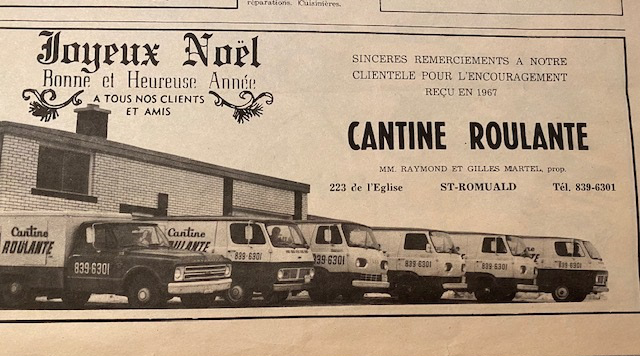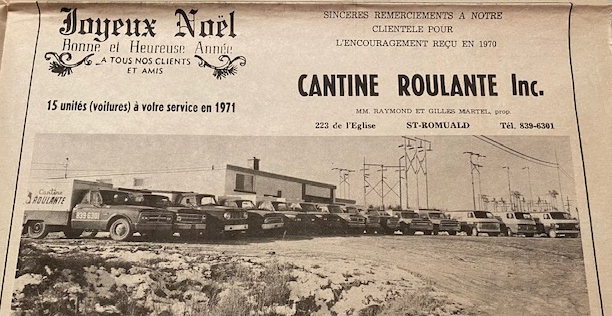 1988
Gatineau, the gateway to Ontario
Another significant step in the company's expansion was the acquisition of the Ontario-based company Tastee Bite Foods and the opening of a distribution center in Gatineau in 1988, close to the Ontario market. He entrusted the management of this mega center in Gatineau to his son Serge. Around a hundred employees there prepare and cook "ready-to-eat" items such as submarines, "chuck wagons," sandwiches, and pastries. The house specialties then found their way into grocery stores and convenience stores in the Outaouais and Ottawa regions, and even in various locations throughout Quebec.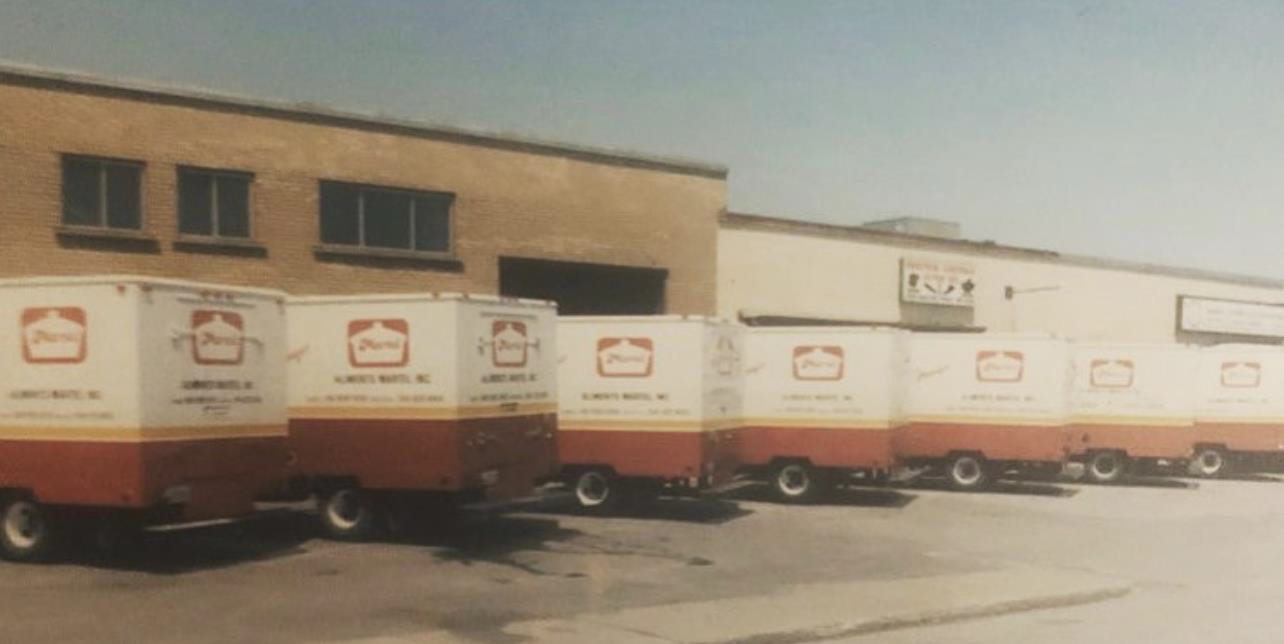 1989
The Creation of Pâtisserie Audrey
Subsequently, the company's growth was remarkable, with the creation of a new factory for sweet products, cakes, and cookies in 1989 – Pâtisserie Audrey in Saint-Romuald, named after the daughter of Raymond and Cécile. In the same year, Aliments Martel relocated its distribution center from Montreal to a building three times larger to meet the needs of the rapidly expanding company. The company also made significant investments in its truck fleet and information systems.
1990 to 2003
Affiliation and Acquisition of the Lafleur Group
In 1990, Zoom Pizza was acquired by Aliments Martel, and it developed a fresh, "Homemade Italian" pizza, adding another significant offering to the company's portfolio. In 1991, Raymond Martel entered a partnership with a major player in the Canadian food industry, the Lafleur Group. In 1993, an egg quota was acquired to supply Pâtisserie Audrey and to develop a related products business, Le Maître Cocotier. By 1994, the Montreal facilities were no longer sufficient, and a 26,000 square foot building was acquired. Ali-Prêt in 1996, China King in Gatineau in 2002, and Aliments Mama Mia in 2003 all became the property of Aliments Martel. It was in 2001 that Raymond Martel bought out the shares of the Lafleur Group to become the sole shareholder once again.
1996
ExcelPrix Wholesale in Food Emerges
Meanwhile, always active and on the lookout for a good business opportunity, Raymond Martel acquired a majority stake, around 1996, in La Cantinière, a wholesaler specializing in products for mobile canteens and vending machine operators, operating cash and carry warehouse stores in St-Hubert, Anjou, Lachine, and Laval. Over the years, with the buyout of other shareholders, this company transformed into ExcelPrix Wholesale in Food. With the sale of Aliments Martel, the Martel family focused on managing this business, with their son, Serge Martel, now the sole shareholder, while Raymond Martel served on the board of directors.
2008
Sale of Aliments Martel to Canada Bread (Maple Leaf)
With all these acquisitions, Aliments Martel then had four factories and a distribution network covering the retail and food service sectors of Quebec, Ontario, and the Maritimes. Our mission was to satisfy consumers who wanted to eat well every day by providing them with top-notch service and a wide and diverse range of quality-controlled, ready-to-eat, homemade-style dishes. Our Quality Assurance department ensured the quality of products from the receipt of raw materials to the shipment of finished products.
In total, about a hundred sales and delivery personnel shared the "routes" (routes covering a set of clients). They covered a total of 50,000 km to serve 10,000 clients, one to two times a week, depending on their needs. These clients included small outlets like convenience stores and canteens, large food chains such as grocery stores, warehouse stores, and distribution centers, institutions such as hospitals, daycare centers, and cafeterias, as well as special events like the Gatineau Hot Air Balloon Festival and the Montreal Grand Prix.
In January 2008, Aliments Martel was sold to Canada Bread (Maple Leaf). The company's management remained in place for nearly a year before experiencing a contentious split. Gradually, in the following years, the Martel name was abandoned by the new owner.
2011 to 2015
Acquisition of the Aliments Martel Name and Purchase of Monchâteau
In 2011, the Martel family made a comeback in the food service sector. In December, they acquired Monchâteau Food Services following the passing of Mr. Michel Coulombe. This company, formerly known as Cafétérias Sélect, was originally founded by Raymond Martel in 1975 and sold to the Coulombe family in 1987.
In 2012, Serge Martel purchased a factory in Boisbriand, with the intention of producing products for large supermarkets in an HACCP-compliant environment and under federal inspection, filling a niche left vacant since the sale of Aliments Martel. State-of-the-art equipment was now in place to meet the demand.
Then came the day in 2014 when discussions were initiated with Premium Brands (who had acquired Aliments Martel) for the repurchase of the Martel name and distribution network, followed by a proposal to Cuisine Karo's creditors. In doing so, the Martel family decided to consolidate production activities at the Terrebonne plant, transferring equipment from the Boisbriand facility, and making Laval the hub for storage and distribution (National Brands Distribution—2016).
After several improvements to the Terrebonne facility, including investments in production and packaging equipment, production capacity exceeded 30,000 units per day.
2016 to 2021
And what about the bakery?
In 2016, Mr. Serge Martel partnered with Caroline Bourget in the business Le Cookie Club. The production activities of Le Cookie Club were moved to newly outfitted facilities in Laval. The following year, Excel Prix acquired the MÉGA-SNACK trademark, well-known for its commercial pastries sold from Halifax to Vancouver.
In 2020, Mr. André Ouellet and Mr. Serge Martel joined forces to breathe new life into the Boulangerie du Petit Pré in Quebec. A new factory was built on Fernand Dufour Street in Quebec, focusing on commercial and artisanal bread and various types of cakes. Then, in early 2021, Aliments Martel acquired the Aliments Blé d'Or trademark. This facility, located in Mercier on the South Shore of Montreal, is particularly renowned for its pastries and chocolate croissants sold in Quebec's supermarkets.
With Le Cookie Club, MÉGA-SNACK, Boulangerie du Petit Pré, and Aliments Blé d'Or, the Groupe Martel's bakery product catalog is quite extensive.
And today?
The Groupe Martel now encompasses 8 distinct companies: Aliments Martel Foods, Excel Prix Wholesale in Food, National Brands Distribution, Crudessence, Services Alimentaires MonChâteau, Le Cookie Club, Boulangerie du Petit Pré, and Aliments Blé d'Or, in addition to Méga Snack, which is a division of Excel Prix Wholesale in Food.
Furthermore, in her new role, Emanuelle Martel will work closely with Mr. Serge Martel in the presidency, and her approach will allow the Groupe Martel to be at the forefront of the food industry in Canada. As a third-generation manager in the Groupe Martel, she embodies the company's values intrinsically. Thanks to her charismatic leadership, she will inspire team members to work towards common goals in a healthy and positive work environment.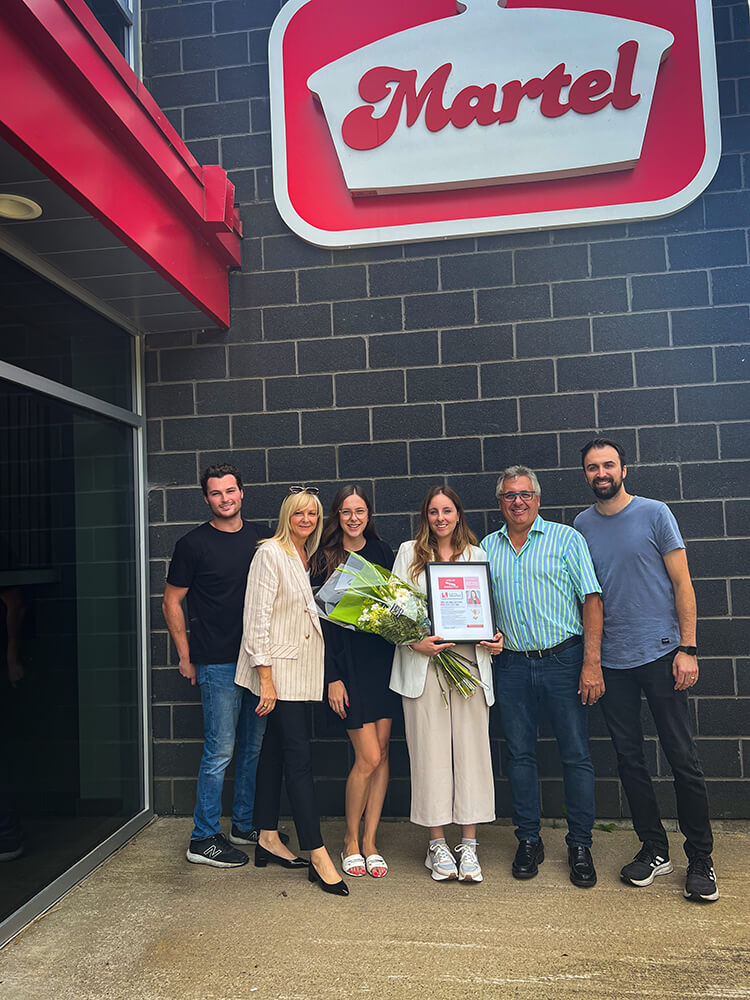 What's new at the Martel Group?